FLORHAM PARK, N.J. — Pro Football Hall of Famer Anthony Munoz got a chance to meet Alijah Vera-Tucker in the weeks leading up to the 2021 NFL draft. As part of the Hall of Fame's mentorship program, Munoz spent time with Vera-Tucker in Arizona, where the future New York Jets first-round pick was training. The former USC Trojans watched film together, talked X's and O's and did some field work.
Munoz knew Vera-Tucker would be a good offensive lineman in the NFL. But this good? Someone who has played three different positions this season at a high level?
"It's amazing," said Munoz, a former Cincinnati Bengals great.
Vera-Tucker, who played left guard as a rookie, has started at right guard (three games), left tackle (one) and right tackle (two), becoming only the third lineman since 2006 to play four different positions in his first 22 games, according to Sports Radar. (The other two were the Panthers' Brady Christensen and Michael Ola of the Saints and Chargers.) In Vera-Tucker's three starts at tackle, he has yet to allow a sack or a quarterback hit and has been penalized only once (illegal formation, which was declined). He leads the Jets with a pass block win rate of 94.3%. Until two weeks ago, he never had played right tackle at any level.
His exploits are resonating far beyond the Jets' locker room. ESPN interviewed five former offensive linemen from different eras, including three Hall of Famers, and they're all blown away by Vera-Tucker's versatility, skill and unselfishness.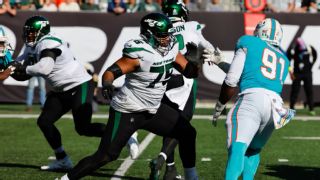 "I don't think you can overstate how difficult it is, what he's doing," said Hall of Famer Dan Dierdorf, who started at all five positions during his career with the St. Louis Cardinals (1971-1983).
Former Jacksonville Jaguars star Tony Boselli, another Hall of Famer and ex-Trojan who started watching Vera-Tucker in college, said, "I've been impressed from afar and even more impressed in understanding what he's doing this year with the consistent change of positions."
"I don't know if people can really appreciate what he's been doing this year," said ESPN analyst Damien Woody, who played four different line positions in his 12-year career. "It's nothing short of remarkable."
John Schmitt, the starting center on the Jets' Super Bowl III team, said, "The only thing he's not doing is selling hot dogs at halftime."
A layman might be wondering, "What's so hard about switching positions? All he has to do is move a few feet to his left or his right." Well, yes, that's true, but it's far more nuanced than that.
First of all, the left tackle and left guard line up in a left-handed stance; the right tackle and right guard are in a right-handed stance. Bill Muir, who coached the offensive line for seven teams over 30 years, said it's a harder adjustment than people realize and that some players can't handle it.
Offensive linemen are creatures of habit. Their performance is built, in large part, on repetition and muscle memory. Disrupt the rhythm, and it can knock a player off track, even the best of the best. Munoz, arguably the greatest left tackle in history, tried to play right tackle at the end of his career — a three-week stint in training camp with the Tampa Bay Buccaneers. He struggled with the change, one of the reasons he decided to retire at that time.
A move from guard to tackle (or vice versa) on the same side of the line is one thing; to flip to the other side of the line is extremely difficult, the former players said. That's what makes Vera-Tucker's feat so impressive.
"I tell you what, " Munoz said, "the Jets have a gem there with someone who can do that and play at a high level."
The hand placement and footwork also vary with each position, as does the skill set of the opponent. Tackles have to block speed rushers on the edge, often with no help. Guards take on 320-pound defensive tackles in the proverbial phone booth. Vera-Tucker, listed at 6-foot-5, 308 pounds, has the agility to handle edge rushers and the power to battle interior linemen.
"On the offensive line, you're doing something that's not totally natural," Boselli said. "You're going backward, trying to stop a defender, who usually is a better athlete than you are. You need reps and it's very technical. The technique between guard and tackle, especially in the pass game, is different. The ability to change from one to the other, whether in game or week to week, and execute at a high level is not just tough physically, but mentally. There are different schemes, different responsibilities, and he's bouncing from one job to another on a whim's notice."
The mental aspect can't be overlooked, the ability to memorize new plays and grasp different concepts and protection rules on short notice.
"When we played, there were 25, 30 assignments for each position," said Schmitt, who played three different line positions over his 11-year career. "So he's had to remember 100 assignments — probably more — at the flick of a switch."
Muir said Vera-Tucker's feat "isn't impossible, but it's difficult because each position brings its own set of encyclopedias, so to speak." He hasn't studied Vera-Tucker on tape, but he knows the circumstances — three different spots this season, no glaring mistakes — and he can't help but marvel at it.
"He must have great football instincts," Muir said. "Not all players do. Some players see things and anticipate better than other players who don't."
Woody played every line position except left tackle in his career, so he can appreciate the challenge of change better than most. But, as he noted, his position switches occurred over the course of a career, not weeks, as has been the case with Vera-Tucker.
"Think about it: You're asking a guy to go out and play a position he's never played before against the best in the world," Woody said. "I don't care who he lined up against. This is the NFL. To go out there and not only play, but play at a high level — I mean, there's just not enough superlatives that I can give AVT for what he's pulling off right now."
"The athletic skill set required to play that many positions without making a fool of himself, blocking the wrong people or turning people loose with a free run at the quarterback, it's a real compliment to him," Dierdorf said. "Not many people can do that."
Informed that Vera-Tucker still hasn't allowed a sack at tackle, Dierdorf replied, "Wow, it gets better and better."
Vera-Tucker was drafted 14th overall to play left guard. After a solid rookie year, he moved to right guard to make room for free-agent acquisition Laken Tomlinson. With injuries at tackle, Vera-Tucker started practicing his pass sets at left tackle on his own time in post-practice sessions called "Flight School" — a daily gathering of players looking for extra work.
It was a "just in case" move by Vera-Tucker, who played left tackle in his final season at USC. Good thing he did it because, when George Fant was injured in Week 3, he was asked if he'd be OK with starting at left tackle. The coaches asked; they didn't order him. It happened the same way when they needed a right tackle to replace the injured Max Mitchell.
Some players, concerned about their reputation and future pay days, would've passed. Without hesitation, Vera-Tucker agreed.
"To me it says, 'I am confident in what I can do,'" Munoz said. "It's team first and confidence."
Since moving Vera-Tucker to left and right tackle, also inserting Nate Herbig at right guard, the Jets are 3-0 with an average of 30 points per game — tied for third in that span. Fant, who also plays right tackle, is eligible to return next week, but it's hard to imagine them disrupting the current chemistry.
Which means Vera-Tucker's days at right tackle could last longer than expected.
"This is happening early in his career, so wherever he ultimately ends up, it'll make him a better player," Dierdorf said. "He'll have a better understanding of line play. He'll see the full picture."
This content was originally published here.