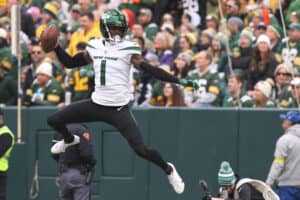 Cornerback has historically been a position that takes time to develop in the NFL. Rarely do we see rookies immediately make an impact. Apparently, no one told this year's group of rookies.
The entire defensive back class has already made a splash. This year, rookie defensive backs have combined for 78 passes defensed and 20 interceptions. Through Week 7, last year's rookie class had 67 passes defensed and 10 interceptions. The 2020 draft class had 63 passes defensed and 11 interceptions.
There is more to successful pass convergence than just these types of plays on the ball, but it's a glimpse of the impact these players are having at this point in the season. There have been 98 cornerbacks with at least 100 coverage snaps through Week 7, per Sports Info Solutions. Three of the top 25 cornerbacks by adjusted yards allowed per coverage snap (using the pro-football-reference formula that accounts for touchdowns and interceptions) are rookies.
These rookies have been thrown into different situations and have won in a number of different ways.
Get Our Betting Packages
25% OFF, use code: GET25
Tariq Woolen, Seattle Seahawks
Stat line: -0.06 Adj. Yards/CS (third), 0.12 targets/CS, four interceptions, six passes defensed
Woolen, a sixth-round pick out of UTSA, has instantly translated exceptional height and speed into on-field production. Woolen stands at 6-foot-4 and ran a 4.28 40-yard dash at the combine. He's a similar athletic specimen to DK Metcalf in the sense that the straight-line speed is out of this world but his agility testing left some questions.
But like Metcalf, the Seahawks have found a way to get Woolen involved in a way that plays to his strengths and limits any potential weaknesses. The way the Seahawks play defense, dipping into the Vic Fangio-inspired coverage, has allowed Woolen to sit and react in zone. Only two teams have played less straight man coverage than the Seahawks through seven weeks and that has allowed Woolen to play in zone for 76% of his coverage snaps, per TruMedia.
Three of his four interceptions have come from some form of man coverage that allowed Woolen to break forward to the ball. Woolen has incredible closing speed whether it's on curls and comebacks (like his interceptions against the Saints and Falcons) or taking away the angles on crossers (like his interception against the Lions).
He also has been able to hold up in man coverage when asked. On 47 man coverage snaps this season, Woolen has allowed just 19 yards (0.40 yards per coverage snap). During Weeks 4 and 5, 44% of his coverage snaps came in man. His interception in Week 6 against the Cardinals came while he towered over Marquise Brown in man coverage.
Teams have been able to take advantage of Woolen in the intermediate area of the field where some of the agility can be an issue. He's the third-most targeted cornerback in the intermediate area and has allowed seven completions and 122 yards on 13 such targets. However, he's more than made up for it with the splash plays (three of his interceptions are in that area) as he's continued to develop at a position he only started playing as a sophomore in college.
Jack Jones, New England Patriots
Stat line: 0.46 Adj. Yards/CS (19th), 0.15 targets/CS, four passes defenses, two interceptions
Jones, a fourth-round pick for the Patriots, has slowly worked his way into the New England lineup and while he only has one official start, he's played over 50% of the defensive snaps in each of the past four games and every time he's been on the field, he's flashed.
Unlike Woolen, Jones has done most of his work in man with 49% of his coverage snaps. 58 cornerbacks have seen at least 10 targets in man coverage this season. Jones ranks fourth in completion rate allowed (25%) and that's where his strength has been — stopping passes from being completed.
That could sound obvious, but if just looking at the publicly available counting stats, Jones does not stand out. But when lined up on the outside, just 64.3% of targets his way has been deemed catchable. That's the 10th-best rate among cornerbacks.
Jones's best ability right now is how he's just stuck closely with receivers and he's limited the window for a catchable pass.
He's been able to hold up in the slot, as well with about a third of his snaps this season inside. He's done just as well preventing completions and catchable passes. He's allowed 42.9% of passes to be completed against him outside (compared to a league average of 54%) and 50% from the slot (against a league average of 58%).
Given Jones's high rate of man coverage, it's also impressive that he's been able to be physical without being called for a penalty yet this season — a rarity for a rookie defensive back.
When in zone, he's given up a few yards — 1.5 yards per coverage snap — but he's also flashed instincts to drive on that ball that has also translated to other parts of his game, such as run defense when he charged into the backfield for a tackle for loss against the Bears in Week 7.
Those instincts and his physical play are all the more impressive (and important) given the measurables aren't going to give him a big margin of error.
The Patriots among the league leaders in man coverage (third), single-high pre-snap looks (third), and middle of the field closed coverages (first), which asks a lot of the cornerbacks. Jones has been able to step right in an produce as his role has increased and it's likely that role continues to get bigger throughout the season.
Ahmad Gardner, New York Jets
Stat line: 0.53 Adj. Yards/CS (23rd), 0.14 targets/CS, 12 passes defensed, one interception
Gardner has been the standout of this rookie defensive class on a defense that is currently inside the top 10 of EPA against the pass (ninth) and DVOA (10th). As the fourth overall pick, there were high expectations for Gardner to slide right in and produce right away. Even with those high expectations, they might be exceeded.
Through seven weeks of the season, Gardner leads the league with 12 passes defensed. It's possible to get hung up on just one interception (if you're looking at the wrong things) but the takeaway here is that Gardner is always around the ball.
Since 2020, the only rookie cornerback to have more passes defensed than Gardner tthrough the first seven weeks of the season was Ronald Darby (14) in 2015, per TruMedia. In that range of time, it's tied for the eighth most among all corners.
At Cincinnati, opposing offenses tried to avoid Gardner in coverage. That put a lot on the plate of Coby Bryant, who is now a rookie for the Seahawks. The opposite has been the case this season. Gardner has been getting tough assignments but D.J. Reed has also played well on the opposite side (12th in adjusted yards allowed per coverage snap). Opposing quarterbacks have not been shy throwing at Gardner. Among 79 corners with at least 100 snaps lined up outside, Gardner is 65th in targets per coverage snap.
Of course, those targets have not been very successful for those offenses. Gardner has used his size, speed, and 95th percentile wingspan to eliminate throwing windows. He's allowed just 48% of passes on the outside to be completed against him. He's been even better on the plays he's lined up in the slot where passes are completed at a higher rate, allowing just 33% of targets to be completed.
Gardner has both been able to break forward on the ball…
…and stay tight in coverage when he's been targeted deep.
Opposing offenses have tried to get Gardner deep this season. He's 87th in target depth among 98 corners with at least 100 coverage snaps at 16.4 yards. He's been targeted on throws of 20 or more air yards 11 times this season, which is tied for the second most in the league. But on those throws, he's allowed just one completion for 45 yards.
Offenses have tried to bait Gardner into misses by running double moves. Per SIS, he's had the second-most double move routes against him (seven) and leads in targets (three). He has not allowed a completion.
Honorable mention
Kaiir Elam, Buffalo Bills
Elam was thrown into the fire as a first-round pick in Buffalo without Tre'Davious White. Elam has held up well enough and ranks 28th among corners in adjusted yards allowed per coverage snap. Without touchdowns and interceptions involved, he's been about average by yards allowed per coverage snap.
Known as a physical corner who could have some penalty issues, Elam has one defensive holding and one pass interference penalty against him this season. Elam has been somewhat victim to how the Bills play defense and how offenses have attacked them. Teams are throwing short against Elam — he's 21st in aDOT — and he's allowing 68% of targets to be completed (82nd) but those plays are often wrapped up quickly, limiting any damage.
Elam has already made an impact and that could improve with White expected back this coming week.
Derek Stingley, Houston Texans
Stingley, the first cornerback selected in the 2022 draft, has been working through a shift in defensive scheme. As a freshman at LSU, Stingley made a name for himself as a top man coverage corner, This year with Houston, just 20.6% of his coverage snaps have come in man. But on those snaps, Stingley has allowed eight completions on 13 targets for 118 yards, per SIS. However, he's been a plus zone defender.
In zone, Stingley is getting targeted on just 9% of his coverage snaps. Stingley has the second-most snaps among cornerbacks in Cover-2 (65) and has allowed one completion on four targets for two yards.
Overall, Stingley ranks 38th in adjusted yards allowed per coverage snap, which is much better than the early season perception of him getting beaten by some top receivers. Stingley might have the biggest gap between what he did in college and what he's asked to do in the NFL and coming off almost two years of not playing consistently, he's already adapting to his new environment.
This content was originally published here.